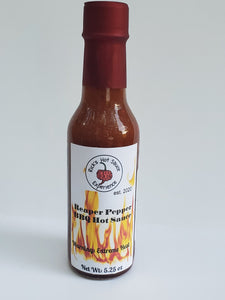 made with home grown reaper peppers, this fiery flavored BBQ sauce not only tastes great, but you won't have to wait long to feel the perfect burn as the reaper brings his touch. great on wings, hamburgers, chicken or what ever you want to heat up and flavor fill!
Ingredients: tomato concentrate, reaper peppers, chili peppers, apple cider vinegar, white vinegar, Worcestershire sauce, brown sugar, honey, black pepper, making a sweet & Tangy flavor, mmmm!
All orders ship within one business day!