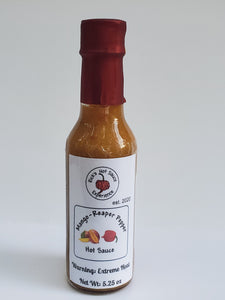 This exotic Island Mango Sauce will make you want to do a tango when the slow burn of the hottest pepper in the world the Reaper works it way through the delicious tropical mango flavor. great on wings, meats or on crackers and chips.
Ingredients: Fresh mangos, reaper peppers, chili peppers, onion, garlic, apple cider vinegar, lemon juice, honey, brown sugar, spices-(cumin, allspice, ginger, pepper) and citrus acid.
All orders ship within one business day!